Play

Play Next

Add to queue
Play

Play Next

Add to queue

331 plays

Play

Play Next

Add to queue

153 plays

Play

Play Next

Add to queue

126 plays

Play

Play Next

Add to queue

155 plays

Play

Play Next

Add to queue

8,003 plays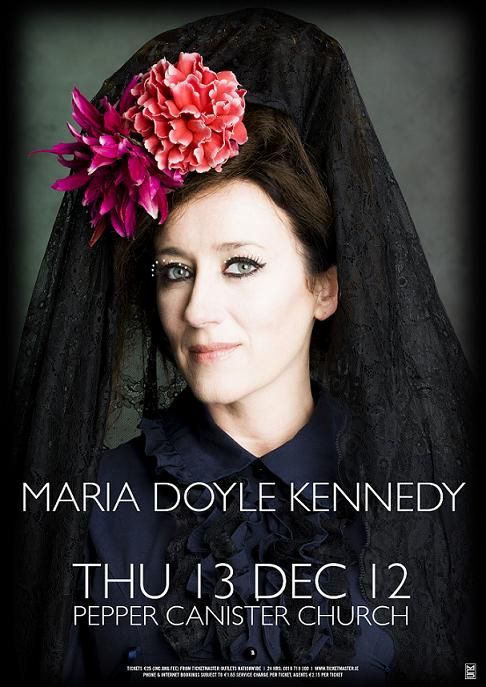 MARIA DOYLE KENNEDY TOUR DATES
Maria DK Tour Dates 2013
Maria Tour Dates 2013
..........................................................
22ND MARCH 2013: IRELAND THE TEA ROOM SESSIONS CARRICK ON SUIR CO TIPPERARY
6TH APRIL 2013: IRELAND THE SEAMUS ENNIS CENTRE NAUL CO DUBLIN
20TH APRIL 2013: NTH IRELAND ROE VALLEY ARTS CENTRE 24 MAIN ST LIMAVADDY CO DERRY
26TH APRIL 2013: IRELAND CLEERES THEATRE 28 PARLIAMENT ST KILKENNY CO KILKENNY
27TH APRIL 2013: IRELAND MERMAID ARTS CENTRE MAIN ST BRAY CO WICKLOW
...............................................................
MORE TO FOLLOW
MARIA DOYLE KENNEDY TOUR DATES
......................................
Bio:
Maria Doyle Kennedy Sing 'I've found my voice.' As statements of intent go, it's a bold one. The line can be found in Maria Doyle Kennedy's 'The Silence', from her third album of original songs, written and recorded with long-term partner-in-crime Kieran Kennedy. Entitled Sing, it's a richly imagined record, one that marries folk forms with torch-song melodies and draws on flamenco rhythms, avant-rock, Celtic, Mediterranean and Appalachian airs. There are misty mountain songs like 'Sing From the Sea', with its serpentine twelve-string figures and dusky soul vocals. There's the spellbound 'Hola Luna', a Celtic fable in the form of a perfect pop tune. Then the harmony-laden Dusty country-soul of 'The Most Beautiful People Are Broken', the woozy, swoony '12 White Horses', the Nilsson-ish cool hand on the brow that is 'Am I Choosing Right'. Over the span of ten meticulously crafted songs, Sing casts ethereal spells, oblivious to worldly babble. No matter how distinguished the guests, they all become transformed in some fashion: Damien Rice changes from a dark balladeer to a man transfixed by sirens. Paul Brady is recast as a Strabane-Andalusian banshee, barely recognizable as himself. And the great John Prine duets on the lovely 'Yes We Will', assuring the listener that the two people in this song will go on, because they must. Sing is a subtle but powerful record, one that deals in the currencies of joy and doubt, magic and grief. These are wise, measured and sometimes tender airs, sung by a woman at the peak of her creative powers, arranged, produced and played by a man at the height of his. These songs, we'll wager, will soundtrack baptisms, revels, weddings and wakes. They might bury us yet. Peter Murphy.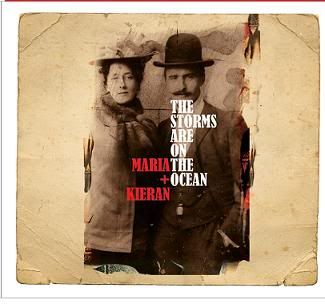 Maria + Kieran: The Storms Are On the Ocean Released: January 27th 2011 on Mermaid Records
Maria Doyle Kennedy's last album proper Mutter was a collection of ghost songs, avant folk songs, eerie fairytales and cinematic snapshots of bedraggled actresses walking barefoot on Mulholland Drive. It was also one of the most bewitching records of 2007.
The Storms Are On the Ocean might well have been named GrandMutter. A collection of Appalachian standards dressed in beautifully darned gowns, its spiritual siblings are Plant's Band of Joy, PJ's White Chalk and Gillian Welch's stark daguerreotypes. Here are courtly tunes, murder ballads, child ballads and death fugues all beautifully backlit by Kieran Kennedy's acoustic guitar, banjo and piano. These apocryphal airs often recall Dylan's definition of folksong: "Traditional music is based on hexagrams. It comes about from legends, Bibles, plagues, and it revolves around vegetables and death. All these songs about roses growing out of people's brains and lovers who are really geese and swans that turn into angels, about skulls and flowers and death and curses and nine times this and ten times that." Each song deals from the bottom of the deck, every line is freighted with its opposite meaning. Under pretty petticoats, the lover's vow 'Bury Me Under the Weeping Willow' wears garter-strapped to its thigh the loaded threat of suicide. 'O Molly Dear' is haunted by death premonitions that might be self fulfilling prophesies. There are lullabies that double as infanticide ballads ('Sleep Baby Sleep'), songs as simple and profound as Blake ('The Wandering Boy'), and wry riddles like 'The Mountaineer's Courtship', which contains half the information required to re-DNA Bonnie 'Prince' Billie after the bomb.
Always the listener is reminded that these mountain holler hymns were written as Irish and Scots morality tales, Elizabethan verse and Presbyterian psalmistry before the Puritans brought them to Plymouth Rock. The Joan of Arc acapella 'Standing On the Promises of God' smells of Salem witch trials, while 'To the Work' is a Shaker paean to the dignity of transcendence through holy toil. Here's your soundtrack to Lesy's Wisconsin Death Trip or Miller's The Crucible…………………. A beauty.
(Peter Murphy)
MÜTTER THE ALBUM Mütter is the third album from Maria Doyle Kennedy, a marked departure from her 2001 debut Charm and the limited edition Skullcover set from 2004. Four years in the making, recorded at many locations including Cork, Wicklow, Dublin and Monaghan, Mütter is a gloriously unsettling collection of classic pop melodies. Cuts such as Opera, Skin and Here You Come, are intensified by Kieran Kennedy's masterfully treated guitars and inventive keyboard backdrops. The timbre of the record evokes a folk-ambient hybrid, warm airs and carefully crafted words offset by wintry tinges of the Cocteau Twins and The Cure. The bristling Fuckability is the exception: swampy flowing rhythms spiked with Stereolab synth hooks, growling bass, and an unashamedly carnal vocal.
The album was, Maria admits, conceived under the influence of Chuck Palahniuk's 2003 coma fable Diary, the testimony of a woman on the verge of a nervous breakdown, and a valentine to the occult power of art. "I was chasing this record down when a friend handed me the book and said, 'I've read your album'," Maria says. "It became the key that unlocked the mystery for me. Faced with decisions to make about a song, I asked myself, 'What would be true to Misty's journey?' It was easy after that…"
Consequently, Mütter sounds twinned with eerie 70s cinema classics like Don't Look Now and Picnic At Hanging Rock. Mother could be a calm riposte to Lennon's primal scream; 40 Days is a minor key panic attack, the scratchings of a soul trapped under cryogenic ice; and the gorgeous Swoon is the point where Sandy Denny meets Sigur Ros. Elsewhere, the near baroque Call Me, co-written with Fergus O' Farrell, evokes the sound of Billie Holiday fronting a Michael Nyman score. Above all, this music is haunted and haunting, an album of shadows and unreal light whose after-effects linger long in the mind. Mütter is a body of interwoven songs as complex and fragile as a spider's web.